Today I watched footage of a fatal plane crash and all I could think was, "Did YouTube redesign their search box?"
Our beloved little web development company, silverorange, was incorporated ten years ago today (August 11, 1999).
I'm looking forward to the next ten years.
A mid-summer session of Acts of Volition Radio full of eleven great songs from Polaris Music Prize winners, nominees, and others.
Eleven great songs -. Recorded Sunday, July 26, 2009 by Steven Garrity. Run time: 61min.
Joel Plaskett – Run, Run, Run
Joel Plaskett – Heartless, Heartless, Heartless
Regina Spector – Laughing With
Metric – Help I'm Alive
Dinosaur Jr. – Over It
U2 – Moment of Surrender
Elbow – Running to Stand Still
The Watchmen – Incarnate
Great Lake Swimmers – Pulling on a Line
Ben Folds Presents The University of Chicago Voices in Your Head – Magic
Wintersleep – Miasmal Smoke & The Yellow Bellied Freaks
"my challenge as a parent with the Internet isn't keeping my son away from porn or violence, it's keeping him away from capitalism"
A quick tip for those designing web interfaces with an "X" icon for a "Close" element. Rather than the letter "x" (or capital "X"), use the multiplication (U+2715) or heavy multiplication (U+2715) symbols.
There's no semantic advantage as neither the letter X nor the ✕ symbol have the appropriate meaning, but we're just using the character to define a shape (often rendered as an image).
In most fonts the multiplication symbol is vertically and horizontal symetrical and has angled end strokes. It really just looks better. The heavy variation looks even prettier.
| | | |
| --- | --- | --- |
| ✕ | ✖ | Multiplication (U+2715) / Heavy Multiplication (U+2715) |
| X | X | Latin Capital Letter X (U+0058), normal / bold |
| x | x | Latin small Letter X (U+0078), normal / bold |
Another great comic from XKCD: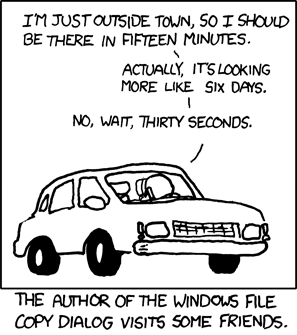 In what sounds like the worst meeting ever, the US State Department's Town Hall Meeting to Announce the Quadrennial Diplomacy and Development Review (QDDR) (that's really what it's called), a State Department staff member asked this question:
Can you please let the staff use an alternative web browser called Firefox? I just – (applause) – I just moved to the State Department from the National Geospatial Intelligence Agency and was surprised that State doesn't use this browser. It was approved for the entire intelligence community, so I don't understand why State can't use it. It's a much safer program. Thank you. (Applause.)
Senator Clinton responded "Well, apparently, there's a lot of support for this suggestion. (Laughter.) I don't know the answer." and passed the question on to under secretary Patrick F. Kennedy.
UNDER SECRETARY KENNEDY: The answer is at the moment, it's an expense question. We can --

QUESTION: It's free. (Laughter.)
The discussion went on to cover how it's not actually free to switch a major application in a large organization, which is fair enough.
As an occasional nerd, I've learned a fashion tip over the years that would have served me well had I learned it earlier in life.
Wear clothes that fit.
It may seem obvious, but it wasn't to me. When something is too small, it's obvious - it's tight, uncomfortable, or you can't even fit into it. Too big, though, is something else all together. Technology conference t-shirts tend to come in two sizes, Extra-Large and Whatever-Is-Left.
In high school, my pants were too big and my t-shirts hung over my frail frame like bed sheets (as was the custom at the time).
It turns out that if you take a few minutes to find the size that fits you comfortably, you will feel better and look better. Try this: find the smallest size that you can fit into and then get one size larger.
While this advice is primarily for nerds, it also applies to most geeks and some dorks.