The following things in my house have a clock. Notice that only one of them is actually a clock:
Alarm Clock (fair enough)
Microwave
Stove (analog, broken)
Phone
Cell phone
Coffee Maker!?!
DVD/VCR
Thermostat (x2)
Laptop
MP3 Player
Also see the list of things in my house with lights.
I'm usually not one for re-released remastered remixed re-issues, despite the allure of alliteration, but the Pearl Jam Ten re-issue is an exception. The original producer, Brendan O'Brien, remixed and remastered the tracks and the result is remarkable (correction: Rick Parashar was the original producer of Ten. Thanks to those who pointed this out.). It sounds like it was recorded yesterday, instead of on the muddy banks of 1990s grunge.
To be clear, these are not remixes as in "m4tr1x RaVe Ed1ti0n", they are remixed in the true sense of the world. O'Brien mixed down the album as he would if he were to record the album today, with all of the skill, taste, and equipment developed since the original release.
The remixes confirm what I've always thought about Pearl Jam. The label of "grunge" described a new variation of modern (at the time) rock music. Nirvana was grunge, Soundgarden was grunge. Pearl Jam was always just plain old Rock 'n Roll®.
The following things in my house have some kind of light on all the time whether they are in use or not:
Microwave
Camera battery charger
Laptop
Phone
Cell phone
Baby monitor (transmitter and receiver)
Smoke detector (x3)
Alarm clock
Cable modem
Wireless router
Coffee Maker!?
There is also a street light about twenty feet from my front step.
The latest version of Microsoft's Internet Explorer includes a prominent "broken page" button in the toolbar, right up there with Stop and Refresh. In the world of interface design, we like to call this an "unbreak me" button.
This screenshot from the Microsoft website shows it off:
As usual, a great comic from xkcd. I've fallen for this misleading comparison myself: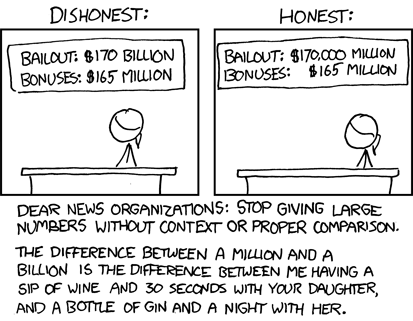 While waiting in line for a coffee at Robin's Donuts this morning, I heard one of the employees say to another, "What does the guy with the broken foot take?" I wasn't sure I had heard this right, but she asked again.
It turns out that a regular customer had broken his foot and wasn't able to get out of his car and into the shop. They told him he can just pull up outside in his car and they run his coffee out to him.
Heart = warmed (and yes, I sometimes get coffee at Robin's).