As usual, a great comic from xkcd. I've fallen for this misleading comparison myself: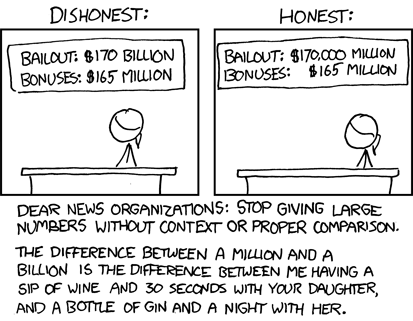 While waiting in line for a coffee at Robin's Donuts this morning, I heard one of the employees say to another, "What does the guy with the broken foot take?" I wasn't sure I had heard this right, but she asked again.
It turns out that a regular customer had broken his foot and wasn't able to get out of his car and into the shop. They told him he can just pull up outside in his car and they run his coffee out to him.
Heart = warmed (and yes, I sometimes get coffee at Robin's).
Artist Shepard Fairey has recently become widely known for his iconic Obama posters (featured on the cover of Time magazine). It is much less widely known that he created another iconic image from the tech world.
Sometime in 1998, Shepard Fairey created the lizard artwork that became the logo and mascot for the Mozilla project. Even today, this lizard is still used in the logo for the Mozilla Foundation.
Six months later, a new session of Acts of Volition Radio with eight great songs.
Six months and either songs. Recorded Sunday, Feb 15, 2008 by Steven Garrity. Run time: 42min.
Frightened Rabbit – The Modern Leper
Gordie Sampson – Davie Jones
Holy Fuck – Lovely Allen
Mardeen – It's a Lot to be Loved
The Gaslight Anthem – The '59 Sound
Kings of Leon – Closer
Eddie Vedder – Rise
Hey Rosetta! – Psalm
For more, see the previous Acts of Volition Radio sessions or subscribe to the Acts of Volition Radio podcast feed.
Our new photo-selling side-project now has a weblog of its own. The ClusterShot Weblog will include news about new features, planned features, and advice on how best to use the service.
Chances are, your hat is stupid.